Exhibitions put you in direct contact with potential clients - making it more important than ever that your stand looks fantastic.
Cubicles That Take A Stand
We help lots of clients with their furniture requirements, and some products are ordered more than others. We're releasing our very own Top Ten items chosen for these events - such as the recent Home & Garden Press Event in London - so you can get inspired and see what turns an empty cubicle into a professional looking stand.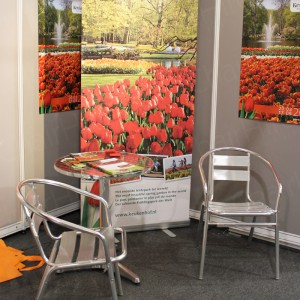 Make Exhibition Spaces Work For You
Getting the right products means considering your budget, the look you want to project and how practical the rental furniture is - read on to find out why the following items are so popular.
1. Aluminium High Bar Stool
This item is exceptionally affordable and it is very robust too. The foot stool and back are created for comfort and because they stack they can be easily transported around large venues, making set-ups simple and quick. The standout feature of this stool is its contemporary design, it brings a modern vibe to cubicles… if only there was a table to match… well…
2. Chrome Poseur Table
This table is a perfect match for our aluminium high bar stool - as they both have the same modern chrome finish. These are a great choice for exhibitions because they give you contemporary seating and surfaces for you and visitors in your stand. The products allow you to hold meetings, discussions and/or set up networking spaces within even the smallest cubicles.
3. Rectangular Trestle Table and Table Cloths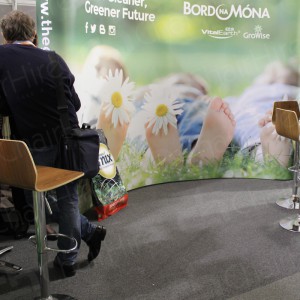 Usually at exhibitions, they'll be something that you'll want to present to visitors. This could be anything from your latest line of cupcakes to promotional material about your services. Our rectangular trestle tables come in at number three because they make a practical choice for presenting goods and your services - don't forget your table linen to boost the professional ambiance.
4. Chrome Bistro Tables
As well as higher tables, for networking and quick meetings, our lower tables are popular too, including our chrome bistro tables. Featuring the same aluminium finish as the poseur product line, they're also robust and stylish. You can use them for additional presentation surfaces or as workspaces within cubicles and when you need seating, why not try our...
5. Chrome Bistro Chairs
Stackable, supportive and lightweight, it's not only the practical features that make this chair hire product our number 5, but its cost effectiveness too. Combined with our chrome bistro tables, they're a professional looking team!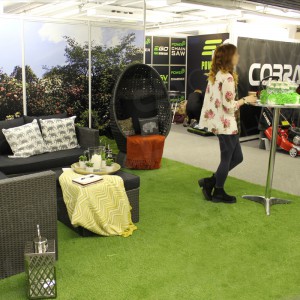 6. White Folding Fan Back Chairs
This is another rental seat choice that offers style, affordability and great functionality. The fan back design is elegant and the white finish brings light into cubicles. They fold up or down in seconds, so are a great option when you might need extra chairs in a flash.
7. Walnut Stool - Medium Back
Choosing our walnut stools means you're opting for seating that projects an executive and premium look. This is a really good option when the focus is on designing exhibition stands with a deluxe edge. The rich dark wood brings a feeling of authority and sophistication and we have matching tables too…
8. Walnut Poseur Table
A table with elegance and grace is all yours when you choose our premium walnut poseur table. This finish makes it into our top ten because lots of our customers want cubicles that have an executive look.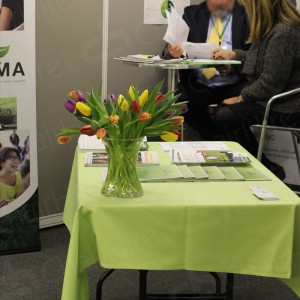 9. Blue Stacking Chair
This is one of the all-rounders where chair hire is concerned. It's often ordered in bulk for those huge corporate events like conferences because it is very comfy and stackable. Likewise, our blue stacking chairs makes a suitable exhibition chair too. The chrome frame is stylish and the upholstery premium, so your visitors can comfortably sit down and chat with you.
10. 1020mm Double Door Cupboard
Seating and surfaces make cubicles more comfy and allow you to display products, catch up on emails and meet with clients - storage is important too. You might want to use storage to add extra functionality - such as a place for notes, documents and files, or you might want them purely for cosmetic reasons. Our grey metal double door cupboards are smart looking and lockable - perfect for all your exhibition spaces.